Di, Dee ,Du, Doo ,Tha ,Jha, Ja ,Ana ,De, Day, De ,Do, Dau ,Cha ,Chi, Chee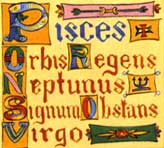 This Rashi comprises of the last charan of Poorvabhadrapada, complete Uttara-bhadrapada and Revti Nakshatras. The persons under this sign have good qualities like truthfulness, innocence, logical thinking and love for mankind.
They are dwarf-heighted,have small parts of body and beautiful nose,are lazy by nature but versatile, ardent lovers of pleasure, good writers. They easily trust people. They have simple life. They face dangers in early life and are sometimes courageous and at times timid. They develop friendship with leading and popular people. They do work after meticulously pondering over matters and issues.
They drink more water. They commonly become popular because of their easygoing nature. They tend to be more emotional rather than rational. They have limited concentration and will power. They are gifted with commanding and impressive personality. They sensibly divide their time between work and rest. They are idle and careless, sometimes dishonest in their dealings.
They are afraid of sins. They have good speculative power. They earn large sums all of a sudden in life. They are calm and cool by nature and earn by dint of their own efforts in life. They travel a lot and have many children.
They are unprejudiced, frank, tolerant, quick-witted, practical, intuitive and imaginative. They inherit property but face litigation, sometimes of disputes in the process of inheritance. They are patients of arthritis, stomach ailments, heart and eye diseases. They start earning at 20-21 years of their age.